Cycling in the Pays de Famenne region!
The Pays de Famenne region consists of six communes characterised by the varied landscapes of Famenne, the Ardennes and Condroz. Situated in the valleys of the Lesse, the Lhomme and the Ourthe rivers, it boasts some remarkable tourist attractions.
Devising your ride is both easy and practical. Famenne à Vélo is 350 kilometres of cycle paths marked with nodal points. This waymarking system is fully modular.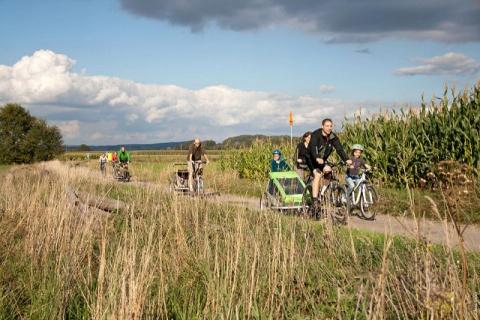 It's great, easy and mobile!
The paths vary and include the RAVeL network of non-motorised paths, country roads and winding woodland trails! Around sixty 'Bikes Welcome' (Bienvenue Vélo) establishments will be delighted to receive you and your bike. The entire network of slow paths and our themed loop trails are all available on paper (map and roadbook) and as a mobile version (GPX, interactive map). Have fun exploring!
News
New "Famenne by Bike" map!
We are pleased to announce that our new "cycle network" map is available as of today. Updat
Family bike ride to meet the pros!
Rendezvous in Marche-en-Famenne on Sunday, 6 October 2019 Experience a family